Infrastructure
Saru Precision Wires Pvt. Ltd. offers non ferrous products. Wire, Fine wire, & flat wire of copper based alloy. Our plant utilizes world-class technology for superior production. We have complete casting and processing facilities with research and development laboratories for testing purposes.

Saru Precision Wires has the most updated technology along with modern machines in the Indian Industry. Our highly experienced and trained manpower along with adherence to quality systems only makes our job easier to produce world class wires. Our tight in-process controls allow us to consistently manufacture products with zero defects. All our products finally go through our state of the art quality lab & quality assurance team who ensure that our customers receive only the finest products. Each lot is certified to meet IS, AWS, DIN, BS, ISO and other popular specifications as ordered by the customer.

At our comprehensive plant we have following equipments and machinery.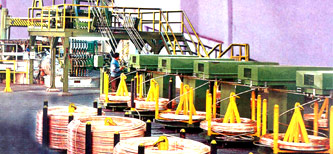 ---
Continuous Casting & Wire Drawing Line
Continuous Casting Machine
Rod Rolling Mill.
Heavy / Light Duty Blocks for wire drawing.
Wet Blocks for fine wire drawing.
Pit - pot annealing furnace.
Flattening Mills and turk head machines.
Hardness Tester.
Fine wire production
Precision wire drawing machines
Precision wire annealing machine
Automatic sealing M/C
Packing machine
Rewinding line
Zinc Coating Line
Pretreatment line
Coating line
After treatment line
Sizing / winding line
Filtration line
Heat treatment furnace
Coating thickness tester
Q.C. – Facilities :
Tool micro-scope
Precision diameter measuring device
Universal tester
Conductivity tester
Surface tester
These state of the art machineries ensure high quality of wires that meet the international standards of quality and performance.